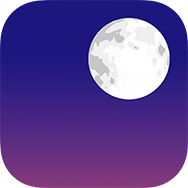 Leave Work
Don't work too much. Don't work too little. Leave Work automatically tracks your arrivals and departures from work to help you manage your time and work exactly as long as you planned.
Simply set where you work and for how long, then Leave Work will start counting down the hours until it's time to go home.
Need more accountability? With two taps Leave Work allows you to send your expected departure time to a friend or family member.
Privacy Policy
Tin Whistle respects your privacy. All personal information (including location, work times, and app settings) is stored on your devices and is never shared with Tin Whistle or any other third-party. The only time your Leave Work data leaves your devices is during a system-wide backup. You may encrypt your device backups to increase security. Anonymous app usage statistics may be shared with Apple and Tin Whistle depending on your device settings. To review these settings, open the Settings app on your device and search for "Analytics".
Apple, the Apple logo, Apple Watch, and iPhone are trademarks of Apple Inc., registered in the U.S. and other countries. App Store is a service mark of Apple Inc., registered in the U.S. and other countries.